Classical music symphony dedicated to Middlesbrough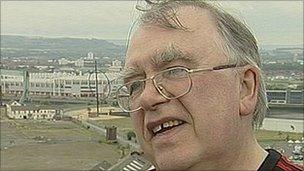 Middlesbrough, best known for its stark industrial landscape, has joined London and St Petersburg in having a symphony dedicated in its honour.
The Middlesbrough Symphony was penned by County Durham-born composer and ardent Boro fan David F Golightly.
The work is to be performed for the first time later this month as part of celebrations marking the centenary of the town's Transporter Bridge.
Mr Golightly's musical career has seen his work performed all over the world.
The symphony was inspired by Middlesbrough chairman Steve Gibson, who has invested millions of pounds in the football club.
Former motor mechanic Mr Golightly switched to music full-time aged 22, and has since enjoyed a busy 40-year career with his work performed as far afield as America, Germany, Poland and Russia.
He said the work depicted an optimistic learning journey through life as well as the highs and lows of the "beautiful game".
He said: "My grandfather took me to my first match when I was 12. I've been hooked ever since, and it's fair to say the club and the town is in my blood.
"My work took me to London in my early career, but now I'm back home I get to as many matches as I can.
"I aimed to capture the atmosphere of a typical match day - with all the pre-match excitement and the two halves of the game built into the structure of the music.
"I see this as my gift of friendship to Middlesbrough, and I'm proud to see the town standing alongside cities like London and St Petersburg as one of only three in the world to have classical symphonies like this dedicated to them."
The symphony will be performed by the Northern Sinfonia at Middlesbrough Town Hall on 15 September.
Related Internet Links
The BBC is not responsible for the content of external sites.