Durham man saved from burning car 'grateful' to rescuer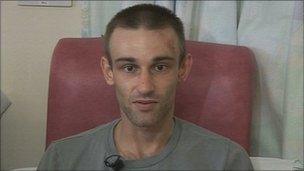 A man pulled from burning wreckage after a collision in Darlington said he was "extremely grateful" to his rescuer.
Andrew Basham, 32, from Shildon was involved in a two-vehicle head-on crash on the A68 near Darlington.
Both vehicles burst into flames and the two drivers were pulled from their cars by members of the public.
Mr Basham said he was "amazed" he had survived the crash which happened on Wednesday 12 October at 17:50 BST.
He suffered a fractured coccyx and the other casualty, a 60-year-old man from Bishop Auckland, suffered fractures to his breastbone, spine and elbow.
"I'm amazed I survived, I'm extremely grateful to the guy that got me out I'd just like to thank him and let him know I'm just really grateful," he said.
"Apparently the firemen said that if it had been any longer no-one would have got out either of the cars.
"I'd like to thank him from the bottom of my heart and I'm sure my girlfriend would like to thank him as well and my little newborn son, because I wouldn't like to think of him growing up without a dad."
Related Internet Links
The BBC is not responsible for the content of external sites.