Tugboat returns to Middlesbrough to mark centenary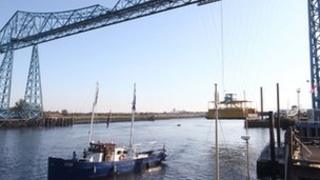 The owner of a tugboat has marked its 100th birthday by sailing it down the River Tees to the place of its launch.
Boat enthusiast James Muggoch, 62, found the 100-tonne Cob, 25 years ago and restored it to its former glory.
To mark its anniversary the boat sailed under the Transporter Bridge to Middlesbrough's Smith Dock where it originally launched on 7 November 1911.
Mr Muggoch said the trip had been a "real adventure" and a special day.
He said: "When I first bought the Cob I set out to restore her and I thought it would be a real adventure to take her back to where she was launched.
"To actually bring her to her birthplace on that day is really special. I have an overwhelming sense of achievement."
Bought for £1
Last month Mr Muggoch sailed the 350-mile trip from the Cob's mooring on the Thames, near London's Kew Bridge, to the Tees to take part in the Transporter Bridge's centenary celebrations.
The Cob is believed it to be the oldest surviving Smiths Dock vessel that is still sea-worthy.
Originally named Smiths Dock No 3, the boat was renamed Mary and saw service with the Royal Navy at Scapa Flow during World War I.
Renamed the Cob, it was sold to Micky Devlin of the Tyne Towage Company for £1 by Swan Hunter shipbuilders and finally to Mr Muggoch.
To mark the birthday, Middlesbrough artist Eamonn McGovern presented Mr Muggoch with a picture of the vessel sailing under the Transporter Bridge which he painted to mark the event.