Darlington hospital errors led to Joanne Hatton's death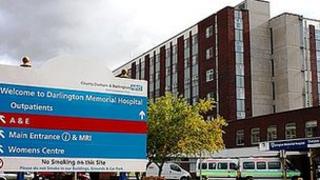 A series of mistakes in a hospital maternity unit contributed to the death of a mother days after she gave birth to twin sons, an inquest has heard.
Joanne Hatton, 38, suffered a haemorrhage and multiple organ failure after having Miles and Ben at Darlington Memorial Hospital.
Care failings and poor staff communication also contributed to her death, the Newcastle hearing was told.
County Durham and Darlington Foundation Trust has admitted liability.
'Transfusion delay'
Mrs Hatton died on 20 January after being transferred to Newcastle General Hospital, the two-day hearing at Newcastle Civic Centre was told.
Newcastle coroner David Mitford recorded a narrative verdict after hearing that she died after having a "significant" haemorrhage followed by kidney and liver failure.
Mr Mitford told the hearing management failings contributed to the complications and "ultimately" led to Mrs Hatton's death.
In a statement, Mrs Hatton's husband Julian told the inquest that staff at the hospital underestimated how much blood his wife had lost and there had been delays in her receiving a transfusion.
He said: "It was like a domino effect - Joanne's medical condition spiralled out of control after the delivery of the twins and nothing could be done to prevent her deteriorating condition."
After the hearing, family solicitor Julia Hurstfield said: "Julian and his family have found the last three years extremely traumatic.
'Wishes to apologise'
"They are pleased that the inquest has recognised the considerable failings that have occurred in the treatment of Joanne and are satisfied that their questions have been answered as far as they can."
A statement released by the hospital trust said lessons had been learned from Mrs Hatton's death.
It said: "The trust wishes to apologise for the fact that Joanne did not receive the high standard of care that she was entitled to expect following the birth of her twins.
"The circumstances of Joanne's management have been investigated thoroughly and changes have been made to the way that obstetric patients, who suffer from post-partum haemorrhages, are now managed."