Middlesbrough installation brings to life roundabout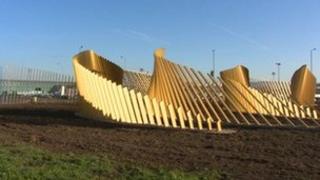 An art installation designed to improve the appearance of Middlesbrough's business areas has been unveiled.
A series of spiralling metal pillars has been installed on the roundabout at the junction of the A66 and Cargo Fleet Lane, a key gateway in the town.
It has been done as part of a wider project to make the area more attractive to businesses.
The scheme was developed by Middlesbrough Council and Riba (the Royal Institute of British Architects).
Middlesbrough councillor Charlie Rooney said: "Attracting new businesses to Middlesbrough, and helping them to thrive, is a vital part of Middlesbrough's strategy for the future.
"But it's more than just bricks, mortar and tarmac - we need to create vibrant environments which will be attractive both to the businesses who trade in them, and the public who visit them.
"Works like this are a vital part of that approach, helping to improve what is an important gateway to the industrial estates in east Middlesbrough and to the town as a whole."
Work started on the East Middlesbrough Business Action Zone in 2006, with £245,000 secured from One NorthEast and the Government's Local Authority Business Growth Incentive reward grant.
The installation, designed by architect Ian McChesney, compliments other roundabouts along the A66 in South Bank and Grangetown in Redcar and Cleveland.
Improvements have also been completed at other sites in the East Middlesbrough Industrial Estate, the Lawson Industrial Estate and Dockside Road.