Further legal row halts Billingham House demolition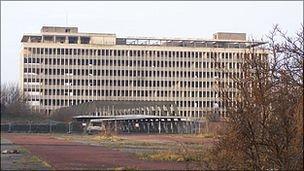 Work to demolish a 50-year-old derelict building in Stockton has been halted again because of an ongoing legal row.
Billingham House, the former ICI headquarters in Belasis Avenue, has been empty for years.
Its owner Bizzy B Management had wanted to refurbish it, but lost a High Court appeal and Stockton Council was given permission to demolish the building.
But work has been halted until January after Bizzy B mounted a further legal challenge, the council said.
Preparation work to demolish the building began in September after a judicial review at London's High Court ruled that Stockton Council could clear the site.
Bizzy B appealed the decision but lost, and it has now applied for a further hearing to reconsider its application.
This will take place at the High Court on 20 January and until then work on the site has been halted.
Stockton Council said it was "frustrated" by the latest move but was determined to bulldoze the building.
Councillor Mike Smith, the council's cabinet member for regeneration and transport, said: "Bizzy B continue to challenge the legal rulings of some of the country's highest courts, despite having so far failed to convince these of their case.
"They have had every opportunity to achieve a positive outcome for this site and now local residents, community organisations and councillors have had more than enough.
"We all want to see this blot on the landscape removed."
In August, spokesman for property firm Python Properties said his firm signed an agreement with Bizzy B to redevelop the area in November 2010.
The BBC has been unable to contact Bizzy B Management for comment.
Related Internet Links
The BBC is not responsible for the content of external sites.