Teesside lecturer Sharon Gayter in treadmill world record attempt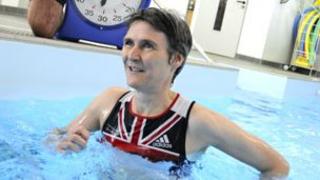 A woman has started a week-long bid to beat the men's world record for long-distance running on a treadmill.
Teesside University lecturer Sharon Gayter, from Guisborough, is aiming to run a total of 1,010km (628 miles) to beat the record.
The lecturer in sport and exercise will get four hours' sleep a night and will have to eat specially-formulated meals.
Her record attempt will take place in the university's Olympia Building for the next week.
Ms Gayter, 48, said the task would be "challenging" but added she was "both physically and mentally prepared now".
According to Guinness World Records, the current record holder is Lee Chamberlain who ran 753.24km (468 miles) in July 2009.
The current female record holder is a grandmother from Kent, Mimi Anderson, who ran 650km (404 miles).
Ms Gayter said: "The women's record was a bit soft. My motto is 'aim high'... to run 400 miles in seven days wasn't a challenge to me.
"It had to be challenging, people don't want something that's soft, so to be a challenge I think it had to be breaking a men's world record which is very rarely done in athletics by females."
'Around-the-clock'
Ms Gayter, who has run more than 300 marathons and more than 100 "ultra-distance" races, has been training at the university's hydrotherapy pool.
Through her record bid, she is raising money for two charities - Zoe's Place, a hospice for babies in Middlesbrough, and Leukaemia and Lymphoma Research.
She said she hoped to raise money to support her colleague Michael Wren whose daughter Charlotte died in 2007 aged three from leukaemia.
Keith Haley, of the Schools of Social Sciences and Law,, said: "We have supported Sharon in preparation for this bid and we have a full team ready to support her around-the-clock for the full seven days.
"We wish her the very best of luck."