WWI Hartlepool medal returned after New Zealand eBay find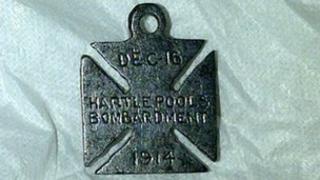 A tiny iron cross marking Hartlepool's bombardment in World War I has been brought back to north-east England after being found in New Zealand.
The medal, about 1.5cm (0.6 in) wide, has now returned to Hartlepool after it was found on an auction website.
John Southcott, chairman of Heugh Gun Battery in Hartlepool, said the cross would be on display there from January.
Mr Southcott's son and daughter saw the medal on eBay being sold by someone in New Zealand and won it for £15.
Mr Southcott said: "It found its way from Hartlepool all the way to New Zealand.
"It's important to us because it commemorates bombardment of Hartlepool 1914 and to find it around the 97th anniversary was an incredible stroke of luck."
'Nice Christmas present'
Mr Southcott continued: "I'd like to think that these particular crosses were cast from some of the shell fragments which littered the streets from the bombardment, but we can't confirm it.
"We think it was made as a small charm and even the engraving on it is so minute, it's really quite a piece of workmanship.
"These things are so rare, but with the Hartlepool connection we had to have it and fortunately it only went for £15.
"It's a nice little Christmas present for the Battery."
A service was held on Friday on the Headland to remember the 118 people, including 37 children, who were killed in the 1914 bombardment.