Hartlepool mayor Stuart Drummond defends new police job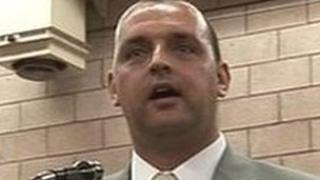 The mayor of Hartlepool has taken on a high-profile role at a troubled police authority.
Stuart Drummond, 38, elected mayor of Hartlepool since 2002, has been appointed as the new chairman of Cleveland Police Authority.
Concerns have been raised over Mr Drummond's ability to do both jobs, but he said they were "similar roles".
Cleveland Police is currently subject to inquiries into officers' conduct.
As chairman of the police authority, Mr Drummond will be able to claim £28,315 per year, on top of the £63,902 salary as mayor.
The police authority's Chief Constable Sean Price and his deputy Derek Bonnard are currently suspended from their jobs while police investigate allegations of misconduct. They deny any wrongdoing.
'Financially tight'
Mr Drummond said: "I wouldn't have taken it on if I didn't think I could do both.
"They are similar roles in that you are leading public sector organisations with financial issues to tackle and I think there is a lot of cross-over.
"There are some huge challenges with Cleveland Police and first and foremost we have to get a balanced budget ready for next year.
"As far as the investigations go, the police authority has no role, apart from paying for them, sadly.
"They are police investigations and we are there to deal with whatever may come out of them."
Mr Drummond, a former call centre worker, has been the vice chairman at the authority since earlier this month when the former chairman Peter Race resigned.
But Councillor Ray Wells, leader of the Conservative Group at Hartlepool Council, said he believed Mr Drummond was taking on two full-time roles.
He said: "It can only be to the detriment of the people of Hartlepool, when things are financially tight, that the elected mayor will be taking his eye off the ball by taking on this authority role."
Mr Drummond won his first mayoral campaign after running as H'Angus the Monkey, in the Hartlepool United mascot suit.
He is currently in his third term. He said: "You have to prove people wrong every single day and you are always going to get critics, that's the nature of the job.
"I am taking on more responsibilities, I am not abdicating any of my current ones."