Funeral for former Stockton North Labour MP Frank Cook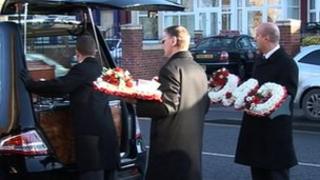 The funeral of the former Stockton North Labour MP Frank Cook has taken place.
The 76-year-old died last week in North Tees Hospital after a year-long battle with lung cancer. The funeral was held at St Cuthbert's Roman Catholic Church in Stockton.
Mr Cook was constituency MP for 27 years until 2008 and campaigned on the future of local manufacturing.
He previously worked as a grave-digger, Butlins Redcoat and a teacher.
Stockton Liberal Democrat Suzanne Fletcher, who stood twice against Mr Cook in general elections, said: "Frank was a determined and doughty fighter for causes he strongly believed in, giving up was not in his vocabulary.
"He should be remembered for the work he did on double jeopardy, which led to the successful conviction of Stephen Lawrence's killers."