Deer 'ripped to shreds' by dogs in Darlington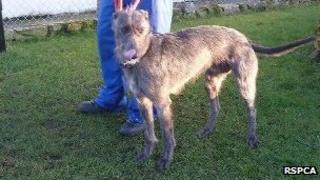 The RSPCA are appealing to find the owners of three lurchers which "ripped to shreds" a deer in Darlington.
The dogs attacked an adult female deer on 18 January at 14:40 GMT near The Northern Echo Arena in the town.
Police were called to the scene and pulled the dogs off the deer, but she died from "horrific" injuries.
Two men, believed to be the owners of the dogs, fled from the scene in white vans. One had its rear windows blacked out and a 55 number registration plate.
Reward
RSPCA inspector Garry Palmer said: "It was a shocking way for the deer to die.
"It was ripped to shreds by the dogs and didn't die straight away.
"We have captured two of the dogs, which are now in the care of the council's dog warden."
The charity has now released photographs of the dogs.
One has a sandy coloured coat and is smaller than the other dogs.
The other two dogs are both deerhound/lurcher crosses, one is dark grey and the other brown.
A £500 reward will be paid for information leading to the conviction of those responsible for the killing.
Anyone with information is asked to contact Darlington RSPCA.