Recording the sound of Teesside in a micro studio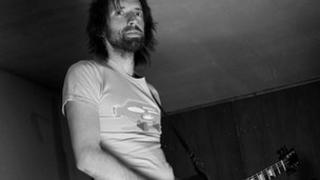 James McCue is a physics teacher living in Billingham with his partner.
When he is not explaining space and time to students, he is recording the sounds of bands in Teesside in a micro recording studio in the spare room of his father's house.
Geostudios was set up as a solution to the problem of expensive recordings for local bands who did not have the money.
Mr McCue, who admits he is "appalling at business", wants to give local talent a chance to get their music recorded without breaking the bank.
He said: "I enjoy recording other bands so much it just feels wrong for me to charge for it, especially as working with bands reminds me of how expensive (especially for teenagers) hiring a recording studio is.
"When I started playing guitar in a band aged 16, we made our first recording of five songs one afternoon and it cost us £200.
"I was amazed how expensive it was but fell in love with recording studios and hoped, as every teenage musician does, that I could move into doing that."
Now, 16 years later, he has not done just that. Setting up the studio by hand, the prolific musician hopes the studio will help out local acts to take that next step.
"I usually refuse any payment and say buy me a pint sometime. People are really nice, they usually pop round with tokens of appreciation.
"I haven't received anything weird yet, but one guy gave me a framed motivational poster which reads "Let's go for 100%" which I'd said at some point during our sessions.
"I'd love to do this as a business, but I really am that bad with money and I like the security of teaching. I need a lottery win, then I could buy a building and record bands for free all day."
Teesside has a history of folk music and storytelling, from artists such as Vin Garbutt.
But now storytelling has crossed to modern music styles, with the same theme underpinning the writing - life in a small northern town.
Mr McCue said: "I love the storytelling of locals bands, hearing them talk abut their lives here, and being instrumental in bottling these stories for posterity.
"That's why I set up the studio. It's on the outer part of my dad's house so his neighbours don't get too disturbed and we sound proofed it of course.
"It's just a spare room so it's small, but it does everything that a band needs."
After being in bands as a teenager, Mr McCue tried out DJing while studying in Newcastle, recording his own mash-ups album using CoolEdit on an old Pentium computer.
When he returned to Teesside after university in 2003 he began gigging again before qualifying as a teacher.
Having a job meant he could afford better recording equipment to create his own albums.
He said: "I started to use more advanced software like Cubase on a desktop PC in my spare room with a small mixer.
"Since I was only recording acoustic guitar and vocals, it was easy to get a decent sound and begin to learn more advanced production skills."
He changed computers to Apple and "splashed out" on other equipment.
He said: "The idea was to eventually get out of teaching gradually and move into music production. That move hasn't happened yet but it's still my dream. I just need to start charging people or like I said, win the lottery."