Middlesbrough MP Ashok Kumar remembered with park tribute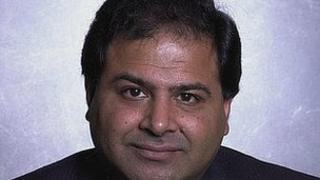 A memorial to the late Teesside MP Ashok Kumar is being created in a Middlesbrough park.
The Middlesbrough Council project will see a commemorative bench and tree installed in Stewart Park.
The MP for Middlesbrough South and East Cleveland died of natural causes in March 2010 aged 53.
Dr Kumar's brother Ravi Kumar Sahnan will be at the park on 17 March to meet council staff and take part in the planting ceremony.
He said: "We are honoured for Ashok to be remembered by the installation of this bench and thank Middlesbrough Council.
"It will be a reminder for us of his energy and passion and his love for the North East and much, much more.
Fitting tribute
"He was a great man in our eyes and will remain in our heart forever."
Dr Kumar originally trained as a scientist, and settled in Marton, becoming Middlesbrough councillor in the 1980s.
He first won the former Langbaurgh seat in 1991, but lost it at the 1992 general election.
He was re-elected at the 1997 general election for the new seat of Middlesbrough South and East Cleveland, where he served until his death.
A Middlesbrough Council spokeswoman said: "Ashok loved Middlesbrough and its heritage, so it is fitting that this tribute should be in Stewart Park."
A similar tribute was created at Saltburn's upper promenade shortly after Dr Kumar's death.