Stockton market traders angry over relocation plan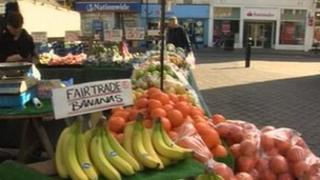 Traders have hit out at council plans to relocate a historic Teesside market.
Stockton Council wants to "broaden the appeal" of the town centre as part of a £20m regeneration programme.
The market, which has been on the site for 700-years would be moved to the south of the Town Hall, and a plaza would be created in its original space.
The council said that it would help to attract more visitors, but existing traders have said the move could put off shoppers.
Trader Martin Cain was also angry at plans to hold specialist markets on its old site.
"Aren't we specialist, we are here all the time," he said.
"A specialist market from Germany and France won't come here in January or February when its blowing a gale, but we'll be here and we pay rent."
A spokesman for Stockton Council said: "The traditional market is vitally important, but we also want to bring in new markets to broaden the appeal of what we already have.
"Our proposals are about concentrating the existing market in a place where they won't have to be moved in the future."