Middlesbrough development 'could bring up to 1,500 new jobs'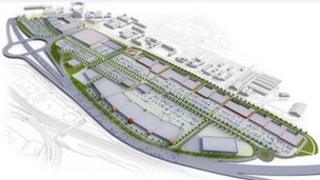 Up to 1,500 new jobs could be created in Middlesbrough if a £120m investment plan is given the go-ahead.
The Western Gateway, in the Cannon Park area of the town, would see the creation of a new supermarket, shopping units and improved transport links.
The initiative is expected to generate up to 1,500 new jobs, on top of those involved in the construction phases.
Middlesbrough Councillor Charlie Rooney, said the plan was a "bold vision" for the future of Cannon Park.
The Western Gateway is seen as a key element of the on-going programme of regeneration across the town.
Significant improvements would also be made to landscaping in the area, with enhanced pedestrian links between Cannon Park and the town centre.
'Commercial hub'
Mr Rooney said: "This masterplan is a bold vision for the future of Cannon Park, and one that works alongside and complements the work being undertaken in other parts of the town centre.
"It is important to stress that this is a framework and not a blueprint - so it's vital that we take on board the views of all those who will be affected to ensure the final scheme is one that carries the maximum possible benefit for the town.
"The aim is to create a thriving, 21st Century town centre which is a great place to visit, shop, do business and enjoy quality leisure time... and will further cement Middlesbrough's status as the retail and commercial hub of the Tees Valley."
The new business opportunities for major retail chains would bring private investment into the town to about £120m, a council spokesperson said.
Support would also be offered to existing businesses whose premises were affected by the proposals, the spokesperson added.
The development plan will be considered by Middlesbrough Council's Executive at a meeting on Tuesday.
A four week period of public consultation will follow their decision.