Henry Williams Group fined after lorry driver injured by bar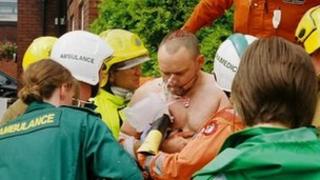 A County Durham engineering firm has been fined after a delivery driver was seriously injured when a steel bar penetrated his chest.
Henry Williams Group Limited, of Dodsworth Street, Darlington, pleaded guilty to a Health and Safety charge at Darlington Magistrates' Court.
The firm was fined £8,000 and ordered to pay costs of £7,424.80.
Jason Ripley, now 42, of Darlington, was delivering timber to the firm when the incident happened in 2008.
Cut free
The court was told that on 19 August, the bar hit the bonnet of Mr Ripley's lorry, breaking through the windscreen and impaling him through the chest.
The tube entered his chest on the right side, smashing three ribs and causing damage to one lung.
The pole caused a 3-4in diameter exit wound in his back.
After being cut free by firefighters, he was airlifted to hospital with part of the barrier still embedded in his chest.
After the case, Health and Safety Executive Inspector Jonathan Wills said: "Mr Ripley was in a horrific incident and the real tragedy is this incident could have so easily been avoided.
"If the barrier had been secured when it was opened, it would not have been left in such a way that the driver was unable to see it."
Mr Ripley was off work for 10 weeks but made a full recovery.