New phase of Stockton's £20m town revamp begins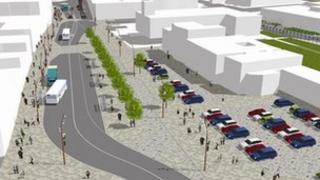 Work on the next phase of Stockton town centre's £20m regeneration has begun.
Stockton Council is currently revamping the southern part of the town centre to attract more shoppers and businesses.
The initial phase saw the Town Hall, The Shambles and street furniture repainted and several dead trees removed from the High Street.
Now a £57.6m scheme to improve public transport across the area has begun. Councillor Mike Smith said it was an "important element" of the development.
The Tees Valley Bus Network Improvement Scheme will see new bus lanes, on street parking, loading bays, upgraded traffic signals and improved paving at the northern end of the High Street close to the soon to be redeveloped Globe Theatre.
'Take shape'
The council hopes these improvements will make it easier for people to visit the town centre.
Mr Smith said: "The regeneration of Stockton town centre is really starting to take shape.
"We are working hard to encourage even more people to visit the town centre... improvements to public transport and walking routes, which make it easier for people to get into the town, are a really important element of this."
The council said there would be some temporary road closures during the works, however the majority of these would take place on Sundays to minimise disruption.