Blast furnace at former Corus steel plant in Redcar to be relit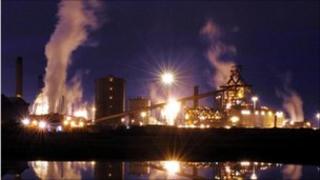 The blast furnace at the former Corus steelworks on Teesside is due to be relit over the weekend, owner SSI said.
The move will trigger the return of steelmaking to the Redcar complex, which was mothballed in 2010 with the loss of 1,600 jobs.
Thai-based SSI has taken on more than 1,000 workers - many of whom lost their jobs when previous owners Tata Steel mothballed the site.
The first steel slabs are likely to be produced over the next three days.
Phil Dryden, chief executive of SSI UK, said: "I am very pleased that we can now look forward to resuming steelmaking at Teesside after a two year absence.
"This is an historic event and I would like to record my appreciation to all those who have been involved, for their commitment and hard work, on what has been a complex and demanding restart programme.
'Emotional event'
Welcoming the news, Business Secretary Vince Cable said: "It is great news that, after a two-year absence, the Redcar blast furnace will be lit again over the weekend.
"I look forward to SSI starting steel production once again in the North East. SSI and its workforce have worked very hard over the last year and should be congratulated on getting to this point."
North East Chamber of Commerce chief executive, James Ramsbotham, said the "determination of a community, the foresight of a foreign company, the partnership of both the public and private sector and the outstanding reputation of a workforce has ensured its return".
He added: "Igniting the blast furnace this weekend will be an historic and incredibly emotional event, not least for the family and friends of union leader Geoff Waterfield who fought so hard, alongside many others, to secure a future for this plant and is greatly missed."
The blast furnace was due to be relit last December, but it was delayed by technical problems and industrial action.