Bittern's 'booming' call heard at RSPB Saltholme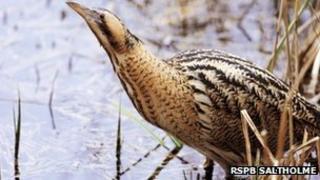 Staff at a wildlife reserve on Stockton have been celebrating hearing the mating sounds of the loudest bird in Britain for the first time.
The distinctive "booming" call of the male bittern was last heard in the Tees Valley in 1979.
Now, the bird's mating call has been heard at RSPB Saltholme for the first time since it opened in 2009.
Toby Collett, Saltholme's assistant warden, said he was "thrilled" to hear the "rather odd" sounds of the bird.
According to the RSPB, there are as few as 80 male bitterns across the UK.
As reedbeds were drained and became more scarce during the 20th Century, numbers of the elusive birds declined rapidly and in 1997 they reached a low point of only 11 males in the UK.
'Like a foghorn'
Conservationists say bitterns have a "beatbox" ability to fill their gullets with air which they release to make a booming song that can be heard several kilometres away.
Saltholme has been a winter home to up to three bitterns, but this is the first year that a male bittern has let out its unique mating call.
Mr Collett, said: "The boom sounds rather odd, that's for sure. It's a bit like a foghorn, with the sound often carrying over vast distances - on a quiet, still day you might even be able to hear it in Middlesbrough's Riverside Stadium.
"Bitterns live deep in reedbeds, a habitat that's been declining rapidly over the past few decades.
"We've worked hard to look after the reedbeds at Saltholme, so that wildlife can thrive - we're thrilled that the bittern appreciates our efforts."