Danuta Domagalska killing: Brother owed her money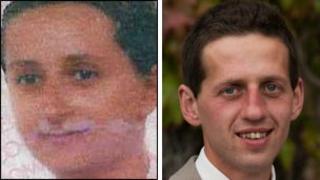 A Polish farmworker strangled his sister because he owed her money - then killed himself, an inquest has heard.
Missing Danuta Domagalska, 27, was found in a shallow grave at New Moor Farm in Walworth Gate, near Darlington, in August last year.
Her brother Piotr Lawniczak, 31, was found hanged close by.
An inquest at Chester-le-Street Magistrates' Court ruled that Mrs Domagalska was unlawfully killed and her brother took his own life.
Coroner Andrew Tweddle held consecutive inquests into the Polish migrant workers' deaths, which were attended by Mrs Domagalska's husband, Marcin.
The hearing heard that Durham Police launched a major search when dairy worker Mrs Domagalska went missing from the farm cottage she shared with her husband and brother on 6 August last year.
Det Supt Adrian Green told the hearing that on the day Mr Lawniczak strangled his sister, he was about to be exposed for taking money from the couple's bank account.
He had already borrowed tens of thousands of pounds which he could not repay, the hearing heard.
'Tragic story'
Mr and Mrs Domagalska, who worked at the dairy farm which is known for its ice cream, were saving to buy a home in Poland where they had a five-year-old son.
After the hearing Mr Domagalska thanked police.
Through an interpreter, he said: "Thank you to every single police officer searching for my wife day and night."
Det Supt Green said the brother took his own life when he heard police were on their way to the farm.
Extensive searches of ponds, slurry pits and woods were made before the bodies were found.
The hearing also heard how Mr Lawniczak had tried to cover up his sister's disappearance by telling farm owners Sue and John Archer that she had got a new job making pies.
Det Supt Green said: "It really is a tragic story all round - you have a family in Poland who have lost a daughter and a son in horrible circumstances."