Appeal to trace soldier's family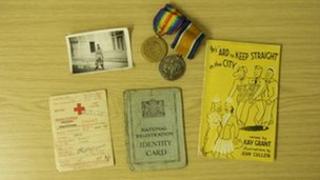 The relatives of a British soldier are being sought after a bag of medals, documents and ID cards were found abandoned in a hedge on Teesside.
The items relate to Sgt Ronald Thomas Price and show he served in India in the 1940s with the Royal Army Medical Corps.
Army buttons, badges, medals from World War I, travel documents and various road maps of the UK were also found.
Police say Mr Price may have also had connections in Chesham and Amersham.
One of the items, a black and white photograph, shows Mr Price at the Taj Mahal with the message "All my love, Ronald xx" on the back.
The bag was found in a hedge in Billingham and police believe it may have been removed earlier from a nearby skip being used by workmen clearing the property of a recently deceased person.
The deceased occupant did not share the same name.
A Cleveland Police spokesman said: "These are personal belongings which may carry a great deal of sentimental value and we would like to return them to relatives of Mr Price if possible."