Tata steel in Hartlepool wins £100m pipe contract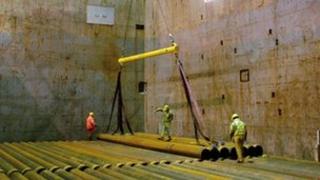 Tata steel in Teesside has been awarded a £100m contract to supply pipe for a project in the Gulf of Mexico.
The steelworks in Hartlepool won the contract to supply Discovery Producer Services LLC with pipe for a gas pipeline in Keathley Canyon.
The 214 miles (345km) of pipe will be manufactured in Hartlepool and will weigh more than 110,000 metric tonnes.
It is the second contract secured by the company in the Gulf of Mexico, with delivery scheduled for later this year.
Tata Steel has three pipe and tube mills at its Hartlepool site, where it employs more than 700 people.
Across the Teesside region the company has around 1,500 employees making and developing steel products for customers around the world.