Hartlepool Council stays in Labour hands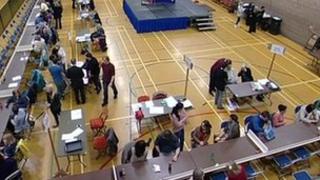 Labour has held control of Hartlepool Council following Thursday's elections.
All seats were up for grabs, but recent boundary changes meant there were fewer than in previous years, with the number of wards cut by six to 11, and a reduction in councillors from 47 to 33.
Voter turnout was 26%. The Labour Party holds 21 seats, the Conservatives three, and there are nine Independents.
There had been two Lib Dems on the council, but the party no longer has a presence.
Four of the Independent councillors are from the newly formed Putting Hartlepool First campaign.
Labour group leader Ged Hall said it was a very good night for the party and they had almost achieved the two thirds majority they were hoping for.
He said: "It is crucial because we have that numerical control and we are hoping to make that count over the coming year."
Low turnout
Former Lib Dem leader Arthur Preece said: "I always knew that we were in for a very difficult election chiefly because of the effect of the boundary changes."
He said he believed to a degree they had paid for what was happening nationally but it was "a temporary situation and we will rebuild and come back again".
Leader of Putting Hartlepool First, Geoff Lilley, said: "I would rather it had been six, I would rather it had been 11, but four is a good start considering we didn't exist five months ago.
"There is a dissatisfaction by the population of Hartlepool where I think people have lost faith in the main parties."
Politicians said they were disappointed at the turnout.
Conservative leader Ray Wells said: "People generally feel they as though they are a little bit fed up with politics but I think you have to understand it. It's mid-term in government elections, you inevitably get a lower turnout."
In February, Hartlepool's elected mayor sacked six Labour cabinet members after they failed to attend a full council meeting on budget proposals. All six were re-elected.
Stuart Drummond, who is not up for re-election until next year, said he did not bear any grudges, that it was in the past and he was delighted they had been re-elected.
· All the latest election results are available at bbc.co.uk/vote2012