Mima art used to inspire Teesside business creativity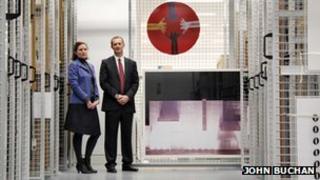 An art gallery on Teesside is offering businesses the opportunity to rent artwork to help inspire creativity.
Middlesbrough Institute of Modern Art, which celebrated its fifth birthday in January, has launched the scheme to build closer relationships between art and commerce in Teesside.
The works, which are not currently on show in the gallery, have been created by local artists and artists from further afield.
Chemical company Huntsman is the first firm to decorate its new offices in Wynyard with seven pieces, including paintings, photographs and works on paper.
Simon Turner, from the company, said it had set up a three-year agreement with the gallery.
'Power of art'
"Anything we can do to stimulate creativity and innovation has got to be a good thing as a business," he said.
"We've taken these seven works initially for the first 12 months and we have an opportunity to change them for other works or keep some of them and change others.
"We're in a business that sells chemicals into paints and coatings, so it's a related business and so pigments and paints go hand-in-hand and that's a very important connection that we've got here with this gallery.
Renting a piece for one year will cost about £650 and business premises will be assessed before the installation can take place.
Mima's development manager, Rachel French, said: "We firmly believe in the power of great art to inspire creativity and innovation in business.
"We're charging for the loans, but it's not just the financial benefits, it's the partnerships that will come out of it.
"We go on site and do an inspection and we talk to the client about what it is they're after and the process is looked after by Mima's technical team."