Stockton prison guards stage retirement age protest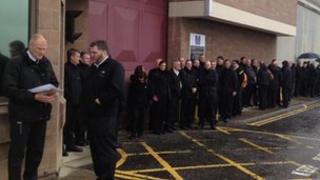 Dozens of guards at a Stockton prison have staged a protest over a planned raising of their retirement age.
Prison officers at Holme House Prison are being asked to work until the age of 68 instead of 65.
Prison Officers Association (POA) branch chairman Tony Stocks said asking prison officers to work until they were 68 was "beyond the realm of reality".
A rota was arranged during the protest to ensure that enough officers were on hand to cover prison services.
In addition to the protest at the prison, strikes were held at the HMRC offices in Stockton and the HMRC tax office in Middlesbrough, as well as at the James Cook Hospital in the town.
POA chairman Tony Stocks said that, unlike demonstrations elsewhere in the country, the protest at Holme House is "not to do with pensions, it's not to do with paying extra contributions to pensions".
Mr Stocks said: "It's to do with having your pension age linked to the state pension age of 68, expecting prison offices to work on landings at 68 years old, often dealing with volatile and violent people at 68.
"At Holme House there are 1,200 prisoners. The staff-to-prisoner ratio on a daily basis is 23 prisoners to one member of staff.
"Can you imagine your granddad or your grandma on the landing supervising 23 prisoners? That's what it's all about."
Injunction threat
Protests were held at 80% of prisons in England, Scotland and Wales on Thursday, according to the POA.
The union told its striking officers to return to work at about 13:30 BST after the government had said it intended to obtain a protest injunction to block the demonstrations.
POA general secretary Steve Gillan said he was "extremely proud of our members for taking the action that they did to highlight the coalition government's attitude towards prison officers".
"We as a trade union have asked them to go back to work because we believe that we have achieved everything that we can today," he said.
The government was critical of prison officers for deciding to strike, with Michael Spurr, chief executive of the National Offender Management Service (Noms), saying he was "extremely disappointed" the POA had decided to strike.
"The government has been in constructive discussions with the POA about further pension reform and it is deeply regrettable that this action has been taken now."