Building work begins on Freebrough Academy expansion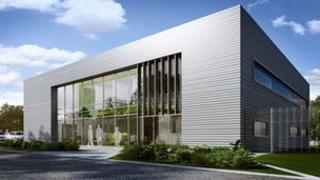 Building work on a £2.6m centre to expand the Freebrough Academy on Teesside is due to begin later.
The centre, due to be completed in November, will teach courses in business and enterprise, creative and digital media and engineering.
The academy was allocated the funding from the government's academies programme to improve its facilities.
It will be the first school in the country to work with the Peter Jones Enterprise Academy (PJEA).
PJEA offers further education courses in enterprise and entrepreneurship where students are required to set up and run their own businesses.
Peter Jones, from BBC Dragons' Den, said: "Freebrough Academy were chosen due to their strong vision to embed enterprise throughout their school curriculum."
Although standing alone from the main academy, it will share curriculum and staff.
The centre will offer open plan areas, formal teaching spaces and four business incubator units for new enterprises and a large design and print workshop.
Freebrough Academy principal Linda Halbert said: "The business incubator units are a particularly exciting innovation and will provide the opportunity for young entrepreneurs to set up and run their own business with the support and guidance of experienced business experts who have successfully done this."