Nightingale heard singing in woodlands near Billingham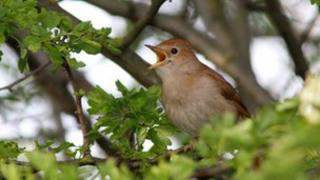 A nightingale has been heard singing in woodlands in Stockton.
Known for its song, the bird is believed to have returned for the second year running to Cowpen Bewley Woodland Park, near Billingham.
A Teesmouth Bird Club spokesman said: "This is two years in a row it's come up here. It's too much of a coincidence to not be the same bird."
The RSPB say nightingale numbers have declined by 60% between 1995 and 2009 according to the Breeding Birds Survey.
Alistair McLee, from the Teesmouth Bird Club, said: "It's too cold for them up here usually. If you've been on holiday in the Med, chances are you've heard one, but the furthest north they usually come in the UK is one isolated colony in Selby (North Yorkshire).
"They sing mainly to attract females flying around. They sing during the day as well, but they stop singing usually when they're mated up.
"Last year when it stopped singing everyone thought it had cleared off, but the fact it's come back this year suggests that perhaps it was successful breeding last year and it thinks it's on to a good thing and has returned. For it not to be the same bird is extremely unlikely."
With the visiting bird in Billingham, it is a chance to hear the unusual birdsong first hand. Mr McLee said people often think they have heard a nightingale sing, but it is actually a robin. He said the song is "spectacular" and one you will "never forget".
He said: "They're utterly drab to look at - they're brown, bigger than a robin and smaller than a thrush. They rely on their song to advertise themselves. They're no peacock."