Ex-Cleveland police officer 'helped smuggle cigarettes'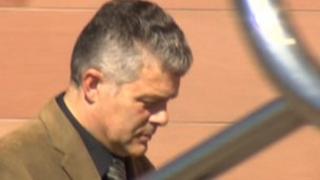 A former police officer used his policing experience to help smuggle millions of cigarettes into the UK, a court has been told.
Prosecutors said Anthony Lamb used his knowledge of law enforcement techniques to evade being caught importing the contraband from international ports.
Newcastle Crown Court heard Mr Lamb, of Coxhoe, County Durham, was in league with two men who have pleaded guilty.
Mr Lamb, 50, has pleaded not guilty to conspiring to evade duty on cigarettes.
Mr Lamb, of Ashbourne Drive, retired from the Cleveland force in 2006.
Craig Hassal, prosecuting, told the jury that between July 2007 and October 2009 conspirators arranged for 21 shipping containers to be imported through Felixstowe port.
Surveillance teams
Of these, seven were seized by Customs and Excise officers and contained a total of just under 60 million cigarettes, with the tax and VAT on them valued at £11m.
The prosecution claimed Mr Lamb was in league with another former Cleveland officer, Gary Thompson, and lorry driver David Lister.
They rented business addresses around England, using false identities but the names of existing legitimate companies.
Craig Hassal said there was "no doubt" a conspiracy had taken place but it was for jurors to determine whether Lamb was part of the organised criminal group.
The court heard surveillance teams often saw Mr Lamb and Thompson together at the business addresses, and that Mr Lamb's fingerprints were on vital documents.
Thompson, 43, of Burdon Walk, Castle Eden, County Durham, and Lister, 49, of Lakenside Caravan Park, Downham Market, Norfolk, have both pleaded guilty to conspiracy to evade cigarette duty and will be sentenced at a later date.
The trial, which is expected to last five weeks, continues.