Vince Cable's North East manufacturing heyday return call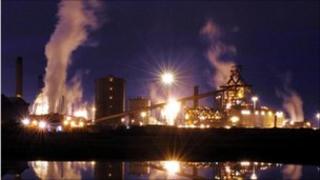 Business Secretary Vince Cable wants the north-east of England to return to its manufacturing "glory days".
He was visiting the former Corus site in Redcar, now owned by SSI, where steelmaking recently returned after more than two years.
Mr Cable confirmed the announcement made last year of Regional Growth Fund awards to create and protect jobs.
SSI was awarded £1.4m and Lotte Chemical UK Limited, at Wilton, received £6.7m.
The SSI funding is being used to update the skills of more experienced staff and train new workers.
The funding for Lotte Chemical is helping to create 55 jobs and safeguard 173.
It was for a manufacturing plant to develop resins for the manufacture of bottles, containers and food packaging trays.
'Workshops of Britain'
The blast furnace at the SSI plant was relit in April after being mothballed for more than two years.
The first shipment of steel produced at the site left for Thailand earlier this month.
Many of the 1,600 workforce who lost their jobs when it was mothballed have been re-employed by SSI.
Mr Cable said: "For too long the British economy has relied exclusively on the City of London, ignoring places like Teesside.
"I want to see regions of the UK like the North East, which were once the workshops of Britain, get back to their glory days.
"I have great pleasure in visiting SSI today and to witness first hand the return of steel production to the North East."