Middlesbrough's Stewart Park reopens after £8.9m revamp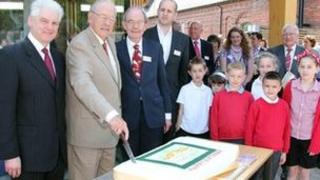 A historic park on Teesside has been officially reopened following a multi million-pound revamp.
The £8m project in Middlesbrough's Stewart Park included improvements to its lakes, paths and woodland areas.
Many of its Victorian buildings will now be open to the public and a new visitor centre, education venue and shop have been installed.
Half of the cost came from lottery funding and the rest from organisations including Middlesbrough Council.
The Heritage Lottery Fund "Parks for People" grant included funding for four new park staff to run the facilities and provide events and activities for visitors.
The 47-hectare (116-acre) park, which opened to the public in 1928, incorporates a museum dedicated to explorer Captain Cook, who was born in a cottage within its grounds.