Suspended Cleveland Police chief, Sean Price, sues forces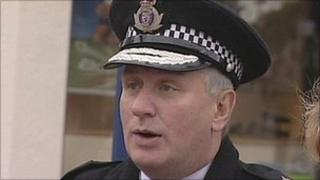 Cleveland Police's chief constable and his deputy are suing three police forces over allegations of wrongful arrest.
Sean Price and Derek Bonnard are taking civil action claiming unlawful arrest, false imprisonment and trespass.
Their claims are against the chief constables of North Yorkshire, West Yorkshire and Warwickshire.
Action has also been taken against Keith Bristow, ex-police chief of Warwickshire who is now interim director of the National Crime Agency.
Cleveland Police said the force would not be commenting on the action taken by the men.
But Warwickshire Police, which made the arrests last August, said they have been ready to interview the pair for five months.
'Affected my health'
The force originally detained Mr Price and Mr Bonnard on suspicion of misconduct in a public office, fraud by abuse of position and corrupt practice.
The pair, who have been suspended since their arrests, are on bail until October.
The solicitors for the two men say they're taking action after nearly a year, in which there have been no further criminal interviews or allegations made.
Mr Price said: "It is now 10 months since my arrest and detention, my name and reputation has been dragged through the mud, it has badly affected my health and I remain on bail suspended from the job I love.
"I remain baffled as to why I have been subjected to this treatment but it would appear it is down to my refusal to act unlawfully."
He added he was "totally innocent" and determined to clear his name.
"I also believe the public, who are funding the bill for this inquiry, deserve to know exactly what has gone on," he said.
Mr Bonnard said it felt like he and his family were living through a "plane crash".
'Disproportionate and expensive'
"I have served policing for 25 years and working with an excellent workforce, Sean and I turned Cleveland Police into one of the best forces in the country," he said.
"Now I am suspended and subject to what I believe is an unnecessary, disproportionate and highly expensive investigation that the public are funding."
In a statement, Warwickshire Police said various issues had arisen since the men's arrests which prolonged inquiries.
"The investigation did have to obtain search warrants from a district judge to search private and police premises," it said.
"Prior to this there had been significant problems in securing documentary evidence.
"We have been in a position to interview Mr Price and Mr Bonnard in relation to misconduct matters for 5 months but they have been unable to make themselves available.
"We are completing enquiries as quickly and professionally as lawfully possible.
"It should be remembered that this is an investigation into complex corruption involving a number of other individuals. A range of serious allegations are being investigated."