Dentist's chair and rubbish removed from River Skerne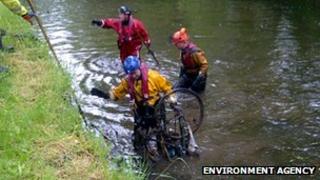 A dentist's chair was among more than three tonnes of waste removed from a river in County Durham.
The haul from the River Skerne in Darlington also included 45 tyres, 39 traffic cones and three bikes.
Andrew Foster, from the Environment Agency, said: "We expected to find bikes, traffic cones, tyres and other fly-tipped rubbish, but we never thought we'd find a dentist's chair.
"It has to be one of the most bizarre finds we've ever had."
Removing rubbish and large objects from the river reduces the risk of flooding.
Councils are working with the agency to clean the River Skerne and River Wear.
The team also pulled out metal signs and railings from the River Wear, near Durham, on Tuesday.
Mr Foster added: "Fly-tipped rubbish is not only unsightly, but it could increase the risk of flooding in bad weather if it gets washed further downstream and causes a blockage."