Claims over Cleveland Police chiefs' records leak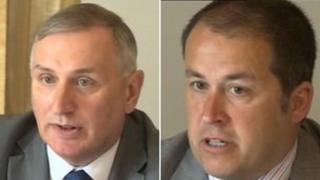 The leak of two police chiefs' medical records is likely to have come from their police authority, it is alleged.
Cleveland Police Chief Constable Sean Price and his deputy Derek Bonnard were arrested last year on suspicion of fraud and corruption and suspended.
A police watchdog inquiry said the source of personal details reported by a newspaper was likely to be someone within Cleveland Police Authority.
But the authority said it would be "surprised and disappointed".
Personal information about the pair was used in a report on the Daily Mirror's website.
The Independent Police Complaints Commission (IPCC) investigated following a complaint by Mr Price and Mr Bonnard about the disclosure.
It concluded there was no evidence to suggest the disclosure was made by any police officer or member of staff working on Operation Sacristy - the ongoing criminal investigation into a number of people with current or past associations with Cleveland Police and Cleveland Police Authority.
The report, seen by the BBC, suggested the most likely source of the leak could be someone within Cleveland Police Authority.
In a statement, the police authority said it took such allegations very seriously and would be making its own inquiries.
It said it would be "extremely surprised and disappointed" if the leak came from the authority because it would not want to undermine any part of the investigation.
Earlier this week, Mr Price and Mr Bonnard announced they were suing three police forces over allegations of unlawful arrest, false imprisonment and trespass.