Paddy Cronesberry to take part in Olympic torch relay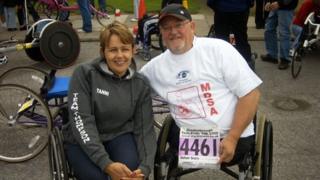 A Teesside man who helps dozens of disabled football fans get to matches will carry the Olympic torch when it comes to the region on Sunday.
Paddy Cronesberry, 60, from Thornaby, is the chairman of the Middlesbrough Disabled Supporters' Association (MDSA), and was nominated to be a torchbearer for his hard work over the years.
He will carry the torch through Stockton-on-Tees in his wheelchair in front of family and friends.
Mr Cronesberry was surprised to be given the honour and said it would be a great day for his wife Andrea, their four children and one grandchild.
'An absolute honour'
He said: "I didn't know anything about it until I got an email saying that I'd been nominated because of the work I'd done over the years for charity and for the MDSA.
"It's an absolute honour and it's nice to get the recognition for what I've done over the last 25 years."
The MDSA arranges tickets and transport for disabled fans, many of whom would be unable to go to matches without the support.
Mr Cronesberry, who has been in a wheelchair since childhood, has been keeping an eye on the torch relay's progress since it arrived in the UK.
He is one of 8,000 people taking part in the relay before the Games start on 27 July.
Father's Day
He said: "I watched it land in Land's End and most mornings I do a check-up and see who has been carrying it and where it's been.
"It's an honour not only for me, but for my family and for Middlesbrough and for Thornaby as well.
"The kids have all chipped in and bought the torch for me. It's nice with it being Father's Day and it's also my birthday the following Sunday.
"They said they didn't know what to get me but they settled on that in the end and in years to come my granddaughter can say 'my granddad was part of the Olympics'."
After his leg of the relay, during which he will be pushed by his regular helper and close friend Colin Davies, the benefits administration officer is planning to use the torch for fundraising events for the MDSA, the Civil Service Benevolent Fund and his former school Welburn Hall at Kirkbymoorside, North Yorkshire.
The torch relay arrives in Teesside on Sunday. On Friday, Mr Cronesberry and his wife will attend a reception with the mayor of Stockton to mark the event.