Meningitis teenager Lyndon Longhorne to carry torch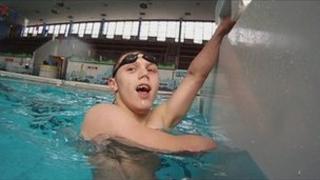 A teenager from County Durham who lost his legs and an arm to meningitis when he was nine months old is to carry the Olympic torch.
Lyndon Longhorne from Crook lost the limbs as well as tips of the fingers on his left hand.
Now 16, he has been selected to take part in the Olympic torch relay because of his inspiring work with the Meningitis Trust.
A keen swimmer, Lyndon was hoping to get a place in Great Britain's Paralympics swimming squad after watching the Beijing Games in 2008.
However, he missed out on a place in this year's squad and is now hoping to compete in the 2016 Paralympic Games.
'Heart and soul'
He said: "I was devastated not to have made the GB team but I am absolutely delighted to have been chosen to carry the flame.
"It is a once in a lifetime opportunity and I hope everyone will support the Olympic torch coming to the area."
Lyndon is a Young Ambassador for the trust and helps to raise awareness of the support on offer to families just like his own.
Anne Currie, of the Meningitis Trust, said: "Lyndon truly deserves to be part of the London Olympic Games and we're absolutely delighted he has been given this opportunity.
"He puts his heart and soul into everything he does, he is so determined and I am certain that this will be just the start of his successes.
"We wish him the very best of luck and we look forward to supporting him to achieve his Olympic dreams in the future."
Dragon's Den star Duncan Bannatyne gave Lyndon £25,000 in 2009 for a bionic arm after his wife met the youngster at an awards event.
Lyndon is carrying the torch in Bishop Auckland on Sunday, when it is travelling from County Durham to Middlesbrough.