Sir William Turner artwork to be unveiled in Kirkleatham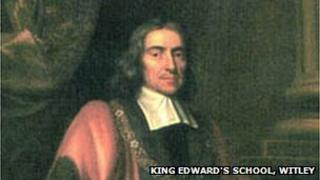 An artwork is being unveiled to honour the memory of philanthropist Sir William Turner.
Centuries after his death, Sir William's name is still associated with all he did to help thousands of others.
He was knighted by King Charles II in recognition of his acts to educate people and support them in their hour of need.
Born in Guisborough in 1615, Sir William enjoyed a successful career in textiles.
He also served as a City of London Councillor, an MP and a magistrate but is perhaps best known for his commitment to helping the poor, vulnerable and needy.
Turner almshouses
Sir William funded a hospital in Kirkleatham, Redcar, for local people and also left money for a school when he died.
His foundation still supports Redcar and Cleveland College.
The hospital's legacy lives on through the almshouses bearing the Turner name in the village and this weekend, trustees of the almshouses will unveil a piece of art dedicated to him.
A former pupil of the Sir William Turner School in Coatham, Brig Philip Norris, commissioned a fine art copy of what is believed to be the only contemporary painting of him.
It will be presented to the almshouses during a Founder's Day service at 18:00 BST on 24 June.
Peter Sotheran, chairman of the almshouses' board of trustees, said the people living there were very much appreciative of Sir William.
"The name of Sir William Turner is still very important at the almshouses," he said.
"His name faded a little bit a decade or so ago, but because of the support of the Sir William Turner Foundation for Redcar and Cleveland College it has come back, and the public have become more aware of his work and support for people in North Yorkshire.
"He was a very generous chap and his name is very much alive and well."
The almshouses provide accommodation for 30 people, and many of the residents will be at the presentation in the chapel on Sunday.
Army lawyer
The print was copied from the painting at King Edward's School hanging at Witley in Surrey, another with strong links to Sir William.
It was commissioned by Brig Norris who left Sir William Turner's Grammar School and read law at Cambridge before serving as an Army lawyer for 25 years and then holding office as a civilian Circuit Judge in London for a further 12 years.
On a visit to the almshouses last year he was surprised to note there was no portrait or lasting tribute to Sir William.
The full-length portrait of him in his robes during his time Lord Mayor was painted by the artist Mary Beale in 1669. The high-resolution photocopy has been printed on stretched canvas and framed.