Middlesbrough councillors' police protection after cars torched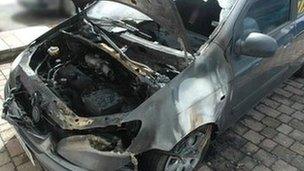 Councillors in Middlesbrough are being given police protection after cars were petrol-bombed by "political obsessives", mayor Ray Mallon has said.
Cleveland Police said they are linking the Jubilee weekend attacks on cars belonging to Geoff Cole and Bob Kerr.
They declined to comment on the type of protection offered, and to whom, saying it could compromise security.
Mr Mallon said the spate of attacks was a "sinister" hate campaign to drive out certain Labour representatives.
Det Ch Insp Alastair Simpson said: "If these crimes are motivated as attacks against elected officials, it is also of concern for the wider community and democracy in the town.
"Whilst we have to retain an open mind about the motives for these attacks, we are actively pursuing this theory."
Other councillors around Middlesbrough have reported damage to their homes and a car was set alight earlier this year.
Mr Mallon, a former Cleveland Police detective who earned the nickname RoboCop for his tough stance on crime, said members of the council are now being given protection after he built up a criminal profile of the arsonists and predicted where they would strike next.
"Having analysed the status and activities of all councillors, I have arrived at a judgment as to who are the likely targets of future criminal action," he told councillors at a town hall meeting in Middlesbrough.
"You know who you are and what measures are being put into place for your protection and that of your property."
Mr Mallon believes radical "community-type activists" angry at the town's social and economic problems are behind the attacks.
Related Internet Links
The BBC is not responsible for the content of external sites.