Normanby baby Danny Bryan's family get transplant hope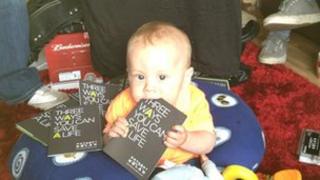 The family of an eight-month-old baby who needs a bone marrow transplant have been given hope after potential matches were found.
Danny Bryan, from Normanby, Teesside, has a rare genetic condition that leaves him unable to fight infection.
His mother Claire, 26, now has to wait another month to find out if he can go ahead and have the life-saving operation.
If a donor is found he will have 10 days of chemotherapy before surgery.
Fresh hope
Following the operation, he will live in a sterile "bubble" for months while his contact with others is limited.
Doctors have told Miss Bryan he has a "particularly severe" case of Wiskott-Aldrich Syndrome.
Miss Bryan said: "All his rashes are clearing up now and in the next four weeks hopefully we'll have more information.
"We were told last Wednesday of two potential matches. It's not 100% but it just gives us a little bit of hope. We're just praying that one of these comes off."
More interest
The family are busy helping the charity Anthony Nolan UK to promote a donor registration event on 10 July at the Riverside Stadium in Middlesbrough.
Miss Bryan said: "It's to try and get more people on the register. There has been a lot of interest. Lots of people have contacted us and I was getting a lot of emails.
"People have have started to raise funds for the Bubble Foundation."
The 10 July event is from 15:00 BST until 20:00 BST.