Phone box 'art gallery' opens in Teesdale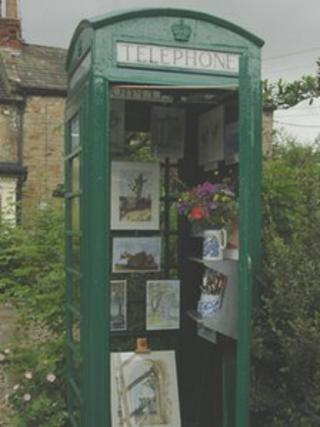 John Hay is an artist who has created what could be the world's smallest art gallery.
In Barningham, near Barnard Castle, Teesdale, he has taken a disused green telephone box and filled it with local art.
Mr Hay, 65, was given the task of finding a new lease of life for the box at a Barningham parish meeting, and said he would after he retired.
He retired on Friday, and by Sunday he had created the "art gallery".
Mr Hay said: "The box has been here since about the 1920s, the landowner at the time gave permission for the box to go up, provided it was green.
"It looks nice in that colour, but no-one knows why the colour was stipulated.
"It is now one of only five green telephone boxes in the UK, and around two-and-a-half years ago BT handed the box over to us, under the condition that we treated it as a listed building.
"I knew I wanted to turn it into an art gallery to showcase the local talent here. The first art work is mine and Sue Prytherick's."
'Person-sized visitor centre'
Mr Hay cleared out an empty beer glass, some wet carpet and a crate, and BT came to remove the telephone. He decided to leave the spiders as "they were there first".
He said: "I've put a Christmas tree in it for the past couple of years and it works really well, a white tree with red baubles in a green box. Cheers it up no end."
The box's exhibits will be changed every few months, and Mr Hay is asking locals for their input.
So far he has plans to put up old maps and photos of how the village used to look, and to display a gallery of flora and fauna from around the village.
He hopes the walkers who frequent the area will see the box as a "one-person-sized visitor centre".
Because of the listed status of the box, all artwork has to be suspended from the existing structure, and no new fittings can be added.
'Life of its own'
Mr Hay uses cables and attachments to hang the art from parts of the box that will hold the weight.
He said: "We use photocopies in A4 clip frames so that no original work gets damaged by the elements.
"I'm asking people to send in photocopies of anything. I don't really want holiday snaps, but artwork, pictures by children, anything.
"At the end of the year I'll collect all the photocopies together and put on an art show in the village hall so we can see all the pictures that have been up in the box over the year.
"I'm hoping this project will take on a life of its own and that we can keep things going."