Cleveland Police: Authority given Operation Sacristy cash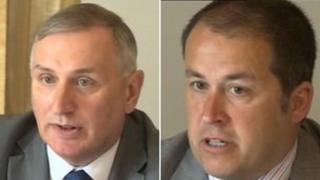 More than £1m has been given to Cleveland police leaders to cover the cost of an internal misconduct inquiry.
The government will pay the police authority's £1.6m bill for the probe into alleged fraud and corruption.
Police minister Nick Herbert also agreed to cover the future costs of Operation Sacristy.
The operation led to the suspension of Chief Constable Sean Price and deputy Derek Bonnard, who both deny any wrongdoing.
The investigation, which began in April 2011, into a number of people with current or past associations with Cleveland Police Authority is being carried out by Warwickshire Police at a cost of around £100,000 a month.
Chairman of Cleveland Police Authority Stuart Drummond said: "Even without the additional costs of Sacristy, we have to cut spending but maintain frontline services to the public.
"This announcement is a great relief in that without this help, we would be in real difficulties and frontline services would eventually have suffered.
"The authority, force and the Sacristy investigation team have all been rightfully subject to a rigorous independent scrutiny process prior to the money being awarded and I hope that this will provide some level of assurance to the public that the money is being spent appropriately."