Judge reprimanded over 'burglary takes courage' remarks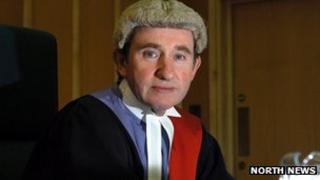 A judge who said burglary needed "a huge amount of courage" has been given a formal reprimand, the Office for Judicial Complaints (OJC) has said.
Judge Peter Bowers made the comments at Teesside Crown Court in September as he spared an offender jail.
The judge reportedly told him: "I wouldn't have the nerve."
An investigation led by the Lord Chancellor and Lord Chief Justice found the use of the word courage was a "serious error of judgement".
'Number of complaints'
A spokesman for the OJC said Judge Bowers' comments had "damaged public confidence in the judicial process".
Judge Bowers made the remark while giving 26-year-old Richard Rochford from Redcar a suspended 12-month jail sentence for burglary.
He also said he thought prison did criminals "little good".
He added that he "might get pilloried" for his decision but said: "I'm going to take a chance on you."
The OJC said at the time it had received "a number of complaints" about the comments.
It said Judge Bowers regretted using the word "courage" and that the Lord Chancellor and Lord Chief Justice believed the use of the word was "offensive to those who have been victims of a burglary".