London 2012: Middlesbrough prepares to host Team GB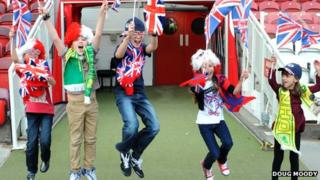 The Samba bands that used to welcome Middlesbrough Football Club's latest signing to Teesside have not been so busy of late.
They are back in demand again now though, as the area gets ready to host its own part of Olympic history.
The Brazil men's team will be at the Riverside Stadium on Friday to take on Team GB , captained by Manchester United's Ryan Giggs, in a warm-up for the London 2012 competition.
A crowd of about 25,000 is anticipated with many fans expected to buy tickets at the last minute, as both the glamour of the visiting Brazilians and the first chance to see the Great Britain team in action capture football fans' attention.
The men's match follows a friendly between the GB and Sweden women's teams.
Adrian Bevington is looking forward to the double-header on two fronts - in his role as the FA's group communications director and watching the game on home turf as a proud Teessider.
He said Middlesbrough was chosen because of the combination of facilities it could offer.
Strong feedback
Both Team GB squads have been staying at the Rockliffe Hall complex near Darlington and practising at Middlesbrough's adjoining training ground.
"The feedback from the men's and women's teams has been extremely complimentary," Mr Bevington said.
The FA was keen, he said, to have the Olympic friendlies played in an area which would not otherwise have a chance to see Team GB.
"It is London 2012 but there are many other areas of the country that are hosting activities," he said.
"I'd like to think the people of Teesside can be proud of something that is hopefully going to be incredible for the whole country."
The GB v Sweden women's match gets proceedings under way at The Riverside at 16:00 BST.
Marrie Wieczorek, former Middlesbrough and England player and ex-coach of Middlesbrough Ladies, hopes hosting the game will provide a boost for the women's game on Teesside.
"It's fantastic that something of this significance is going to be here on Teesside," she said.
"When I was at school there wasn't an opportunity for girls to play football but now it's quite normal."
Ticket rush
Claire Wordsworth, from the Love Middlesbrough campaign, has felt excitement rising in the town since the matches were announced.
"We really can't believe we've got Team GB, Brazil and Sweden playing in Middlesbrough," she said.
"It's a huge lift that people in the town and from around Teesside feel part of the Olympics.
"There's a knock-on effect as well because we know that people are travelling from around the country so the hotels and restaurants get a boost."
Mrs Wordsworth is taking her two sons Hedley, 10, and Monty, eight, to the game.
She says her boys know all about Brazil stars like Hulk and Neymar from playing on computer games.
"It's wonderful that children of that age can see world-class players," she said.
"The morning when the tickets went on sale all of the mums at school were rushing to get online and buy them.
"To have it on our doorstep is great."
Liane Azevedo, a Brazilian working as a lecturer at Teesside University, has a group of friends arriving on the day of the game from Sao Paulo.
She said they were looking forward to visiting the Riverside Stadium and finding out more about Middlesbrough's love affair with Brazilians, ignited in the late 1990s through the big money signings of South American star players such as Juninho, Emerson and Branco.
'Something magical'
Ms Azevedo, who has been living on Teesside for three-and-a-half years, said: "When I came here for the first time for my job interview as soon as I told the taxi driver I was Brazilian he asked me if I knew Juninho.
"I know how important he was for Middlesbrough, it's great that Brazil already has a story here.
Like many other Boro supporters, Mr Bevington is looking forward to seeing that story continue.
He said: "When you talk about international football, whether it be World Cups or the Olympic Games, Brazil always have something magical about them.
"I went to Ayresome Park as a child in the 70s and afterwards, never in my wildest dreams would I have imagined that Brazil would come to play an international match in Middlesbrough."
Ms Azevedo is glad the area is playing a small part in the Olympics.
She said: "My friends from Brazil love to come to England but they've never been to the north-east before.
"I live in Redcar and I'm going to take them to Saltburn, the beaches here are quite different from the ones in Brazil."