Discussions continue over empty Darlington Arena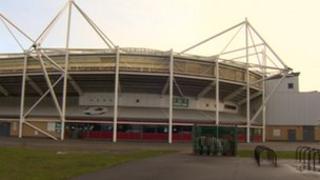 The owners of Darlington's former football ground said they had interest from two parties about the ground.
The 25,000-seater stadium will not be used this season following DFC 1883's takeover of the club, which was placed in administration in January.
One of the ground's owners, Philip Scott, said the two ideas were to use it for sports or events.
Darlington Conservative councillor Ian Galletley said it was important it did not become an "empty tombstone".
Mr Scott, who is a joint owner of the ground, said: "There are a number of things we are working on currently to actually ensure that in the medium to long term the arena is a stand-alone entity that contributes something to the town."
He said demolishing the stadium would be "very much a last resort".
A Darlington Council spokesperson said it was in regular contact with the stadium's owners an would "continue to work with them".
Mr Galletley said his concern was that the only building people saw when they passed Darlington was "an empty tombstone stuck on the edge of town".
He said he would like to see it used as an opportunity for something that was needed, such as public housing.