Arson attack on Stockton presbytery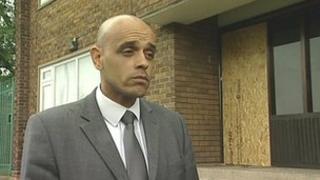 Police said a 68-year-old priest escaped unhurt after an arsonist targeted a presbytery on Teesside.
Two separate fires were set at the residence adjoining St Bede's RC Church in Stockton early on Sunday, according to Cleveland Police.
The priest, who was asleep at the time, put one of the fires out while firefighters extinguished the other.
Police said the main door to the building was set alight and an accelerant thrown through a window.
Det Sgt Stephen Kappel said: "We received a phone call from the occupant in the early hours to inform us the building was on fire.
"On arrival he had already put one out and the fire brigade were able to extinguish the other.
"Someone has attempted to set fire to the building at two locations. One at the main door and one through a window in an annex.
"The occupant was woken by a smoke alarm and got out through the rear of the building.
"Thankfully he was not seriously hurt, but this could have been a life-threatening incident."