Normanby baby Danny Bryan to get bone marrow transplant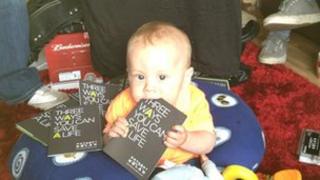 A nine-month-old Teesside baby boy is to undergo a bone marrow transplant after a worldwide search found a German donor.
Danny Bryan, from Normanby, Teesside, has a rare genetic condition that leaves him unable to fight infection.
His mother Claire, 26, said she was delighted a match had been found.
Danny is in Newcastle's Royal Victoria Infirmary where he will undergo 10 days of chemotherapy before undergoing the transplant on 9 August.
Ms Bryan said: "I'm so happy - Danny is doing well and is in isolation in the hospital's bubble unit. We don't know anything about the donor other than that they live in Germany.
"When Danny is ready for the operation the marrow will be taken from the donor and it has 72 hours to be flown over and used in the transplant - this has given us hope."
Following the operation, Danny will live in a sterile "bubble" for months while his contact with others is limited.
Doctors have told Miss Bryan he has a "particularly severe" case of Wiskott-Aldrich Syndrome, which means he does not produce enough blood platelets.
The family recently campaigned on behalf of the charity Anthony Nolan UK to try and get more people on the donor register.