Olympic role for Cleveland Police horses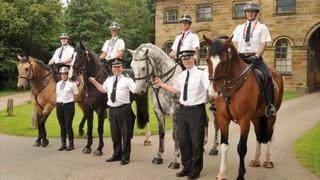 Four officers and horses from Cleveland Police mounted section are setting off to London to help with crowd safety at Olympic events.
Reg, Roman, Ranger and Alf, plus their riders, will assist the Metropolitan Police at the men's and women's football events at Wembley.
They will also patrol a number of triathlon events at Hyde Park.
Cleveland Police said that the deployment would not impact on the standard of policing locally.
Assistant Chief Constable Sean White said: "We are very happy and enormously proud to be able to send officers to assist at the 2012 games in every capacity that we are able to.
"I hope that those officers that do get the opportunity to go find it a valuable, interesting and enjoyable experience."