Cleveland Police boss Sean Price faces misconduct hearing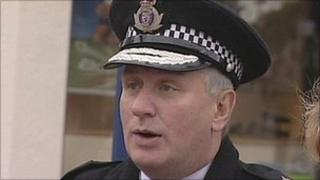 A suspended police chief is to face a misconduct hearing, it has been announced.
Chief Constable Sean Price, of the Cleveland force, is due to face a hearing within two months, Cleveland Police Authority said.
The allegation is that he used undue influence to appoint an individual to a position within the force.
Mr Price and his deputy Derek Bonnard were arrested a year ago, but deny allegations of wrongdoing.
Cleveland Police Authority said the investigation into both men was still ongoing.
In relation to Mr Price, a statement from the authority said: "The authority agreed with the IPCC's recommendations that there was a case to answer for three matters.
"These are in respect of potential gross misconduct, and have therefore referred the case to a misconduct hearing.
"It is important to note that the investigator found no evidence to indicate that person concerned did anything untoward or inappropriate during the application, interview and recruitment process.
"The misconduct hearing for Mr Price is due to be held by an independent panel within the next two months."
The force originally detained Mr Price and Mr Bonnard, who have been suspended from duty, on suspicion of misconduct in a public office, fraud by abuse of position and corrupt practice.
Last week the Independent Police Complaints Commission (IPCC) passed a file to the CPS and Cleveland Police Authority.
Mr Price and Mr Bonnard, who have both launched legal claims that they were wrongfully arrested, released a joint statement which said they were determined to clear their names and return to work.