Port Clarence wood fire 'cost taxpayer £750,000'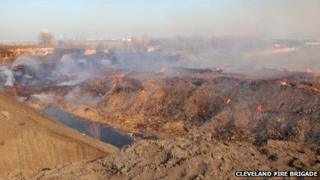 A fire at a wood recycling facility on Teesside which lasted nine days cost the taxpayer about £750,000, fire chiefs have revealed.
The 170,000 sq ft (15,800 sq m) blaze at the Jigsaw plant in Port Clarence, near Stockton, began on 10 March after the site was deliberately set alight.
It was attended by 24 fire appliances, the crews of which spent 2,808 hours - the equivalent to 117 days at the site.
Five people were arrested afterwards but all were released without charge.
Phil Lancaster, from Cleveland Fire Brigade, said: "This is money and time we would much prefer to be spending on fire prevention to prevent injury and save lives throughout Cleveland.
"Arson ruins lives, ruins communities and ruins local businesses... deliberate lighting of any fires will not and should not be tolerated."
At the height of the blaze 10 crews were at the scene, with water being pumped directly out of the River Tees. No-one was hurt.