Olympic medal winner Kat Copeland ponders future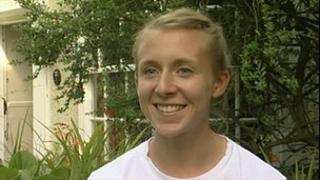 Olympic gold medal rower Kat Copeland has revealed she is considering giving up her sport at the top level.
The 21-year-old returned to her parents' home in Stokesley, North Yorkshire, on Tuesday after her triumph in London 2012.
Copeland, of Stockton, won gold with partner Sophie Hosking in the women's lightweight double scull event.
She said she was trying to decide whether to carry on rowing or commit to doing a degree in biology.
She said: "I just don't know yet what I'm going to do - winning was such an emotional thing that I need a few weeks to decide what I'm going to do.
"I might decide that it was amazing and want to do another games, or I might decide that I've accomplished as much as I can and I should get a job or study.
"I've had heaps of cards from people I don't even know saying 'well done'.
"It is so flattering they've gone to the trouble of writing me a card and posting it."
Copeland said she had a month to decide whether to commit to training for the Rio games or go to Newcastle University.
She added: "If I keep rowing it is a four-year commitment, so it is a big thing, and a big decision to make."