Middlesbrough Coral betting shop armed robbery: Staff threatened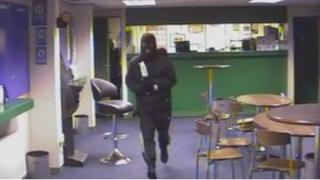 Staff at a Middlesbrough bookmakers have been threatened by an armed robber.
The man entered Coral on Cargo Fleet Lane at about 21:30 BST on Wednesday.
He threatened staff with what appeared to be a handgun and forced them to place the £271 from the safe into a bag before running out of the shop.
Police are appealing for help to trace the man, described as white, 5ft 8ins tall, with a stocky build and aged 25 to 35.
He was wearing a light grey balaclava, a grey padded jacket, black gloves, black training shoes and black tracksuit bottoms with a white stripe down the leg.
It is not known if the man ran across Cargo Fleet Lane or left towards Homerton Road.